Updated: Mar 10 2021
Pros: Subbass Extention, Fluid Mids, Very rich and musical tuning, Good technicalities in mids and treble, A nice flavour to the sound, Build Quality
Cons: Upper treble Extension, Fit, Coloured Sound
Driver Setup: 1DD + 4BA
Price: US$249
Intro
Disclaimer: This review set is purchased with my own money from Linsoul, which kindly provided a discount in exchange for a write-up of my honest thoughts. All my opinions and impressions are all my own and in no way influenced by Linsoul.
Thieaudio has taken the audio world by storm this year, with many successful releases. The Legacy 5 is the third IEM to be released in their Legacy line. I quite enjoyed the versatile Legacy 3 (reviewed here) and the quality and value it brought to the table. Today, we shall have a look at the latest addition to the line and see if it meets the high hopes I have for it.
Accessories and Build Quality (Score: 8/10)
Build quality of the IEMs are rather impressive. They have a certain understated beauty to them. Granted they aren't as flashy as the other IEMs in the Legacy line. The glitter swirls are quite pretty IRL and photos don't seem to do them justice. The resin shells feel really premium in the hands too. The included cable is of similar build and quality as the Legacy 3 cable. Nothing fancy, but overall well-made and functional. You would be all set to start enjoying these right out of the box.
Included in the box is also a hard case made of leather (or at least I think it is) with a magnetic clasp. This has to be one of the nicest pouches/cases I have received in an IEM I purchased thus far. Overall, you don't get a whole array of accessories, but functional and quality stuff.
Fit (Score: 7/10)
The IEMs are on the bigger side and fills up my ear entirely. I did have some problems with fit due to the short fit and nozzle. This is in comparison to the Mangird Tea which is identically sized and has a similar nozzle but has a deeper insertion. The metal nozzle on the Legacy 5 also has no ridges and some of my tips including Spiral Dots would slide right out. There were multiple instances when I removed the IEMs from my ear with the ear tips still stuck in my ear. Fortunately, the IEMs come with 3 sizes of foams and a pair of SpinFits, all of which pair with the earphones really well.
Overall, the fit is really tip-dependent and took me a lot of experimenting before I settled on a pair of small foams.
Sound (Score: 8.7/10)
Frequency Response of the Legacy 5
Sources Used
Albums and Tracks tested with
The Nutcracker Suite – Boston Symphony Orchestra
Carpenters Gold: Greatest Hits
Scary Pockets – Nu Funk
Annie Broadway Recording
Chicago Broadway Recording
Stevie Wonder – Number ones
One Direction – FOUR
Tokyo Kosei Wind Orchestra – Sinfornia Nobilissima
Bass (Score: 8.5/10)
There is an emphasis in the bass region, mostly coming from the Subbass. It has a satisfying rumble. The bass quantity tapers down going from the sub-bass and midbass, which was a nice touch in tuning by Thieaudio to avoid unpleasant bloating in the bass. It is capable of handling complicated bass lines (Scary Pockets Sweet Dreams) with plenty of articulation and rumble.
Midbass punch is a little rounded off and not as crisp or fast as the Mangird Tea, contributing to an overall darker tuning. The bass has a slower decay. I would term it more of a pleasant and inoffensive bass-emphasised tuning. Thieaudio can do much better in technical tuning for the L5's bass response considering its price point
My set of Legacy 5 seems to have a variation in tuning, probably unit variance, having a significantly higher sub-bass boost, especially in the sub-bass region.
Mids (Score: 9/10)
The mids pick up from where the bass left off. Looking for words to describe the lower mids would be lush, rich, fluid. While I wouldn't consider the Legacy 5 as vocal-forward, vocals do have a very nice presentation to them and voices are always very engaging and given plenty of space to shine without ever getting too intense.
Upper mids does have a relative bump but is subdued and conservative compared to many IEMs out there right now. It is very much laid back and sounds quite thick, probably due to the support from the lower mids. It is miles away from shouty and the Legacy 5 is one that you would struggle to feel fatigued from. The upper mids are rather laid back yet have a sizeable amount of body to them. In fact, I sometimes do find myself wishing more from these in the upper mids. Yet on Carmen Fantasy, the violins have a really addictive flavour in their tonality, a certain je ne sais quoi that I can't seem to put my finger on.
On songs like the Carpenters, the vocals are silky and rich, but at times I wished a little more openness as though the lead singer was holding back on her voice. All things considered, this is quite an enjoyable tuning of the mids and a good break from the upper mids emphasis on many IEMs in the market currently.
Treble (Score: 8/10)
Upper treble performance on the Legacy 5 is lacking in extension and doesn't give the sense of space. It makes the height of the sound seem noticeably shorter. It loses that sense of space and soundstage as well, making the sound seem a little more on the intimate side.
However, this doesn't really mar the sound of the Legacy 5. This is owing to how the lower treble picks up a little from the upper mids a little, with a little more energy but still very safe, with absolutely no hint of sibilance. The Flutes and Piccolos in Tchaikovsky's Nutcracker Suite still sing very sweetly with the same silky texture that made the mids to enjoyable. There is no hint of tinny or grainy sounds.
Overall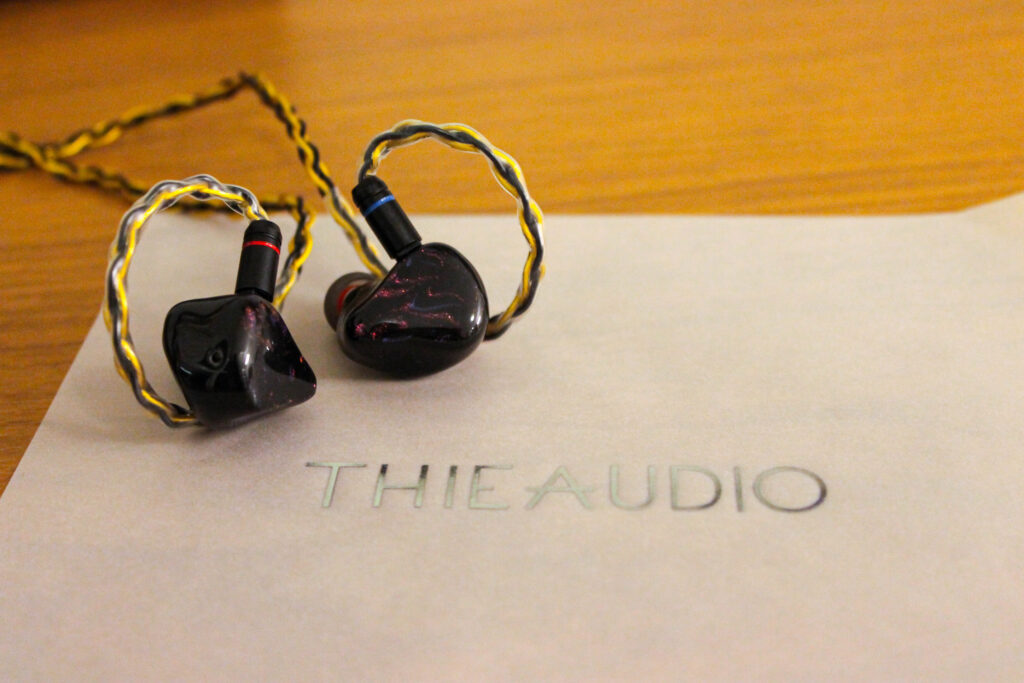 The sound signature of the Legacy 5 seems to be more towards the balanced side rather than V-shape given the safe tunings in the bass and upper mids. However, it is far from being a natural or neutral set. I consider the sound to be rather coloured which would be a potentially divisive point. To put it simply, it may not be everyone's cup of tea. Detail retrieval and technical capabilities are actually pretty decent. The layering and separation are quite musically and tastefully done. However, the lack of upper treble extension surely doesn't do the L5s much favour in this aspect, making it sound a little handicapped at times. My main gripe with the L5s are also how intimate they sound, a problem made worse by the limited treble extension.
That being said, I very much like the Legacy 5 for its distinctly rich and velvety sound that few IEMs have. Does it faithfully replicate frequencies? Maybe not all the time, but these are just so musical on some tracks. With that in mind, I guess it can be said that Thieaudio has achieved its goal in dedicating its Legacy line to musical IEMs.
Comparison
VS Mangird Tea
Full review of the Mangird Tea
This comparison is definitely warranted with many find themselves deciding between the two. The Mangird Tea sits in a price category above the Legacy 5. In fact, the Legacy 5 sits in a price point with few immediate competitors. First off, I would prefer the fit of the Tea over the Legacy 5. In terms of sound, the Mangird Tea has a leaner bass response, and I would consider it the more neutral-sounding set. The Mangird Tea also has a much better upper treble extension and trumps the Legacy 5 in soundstage and imaging.
However, there are things that the Legacy 5 does better than the Mangird Tea. The Mangird Tea has a slightly less coherent tuning with a few quirks in tuning in the mids. This gives a certain unnatural timbre to certain instruments, which come especially apparent in orchestral tracks. This isn't present on the Legacy 5, which has a more fluid and rich musical sound in the mids. The Legacy has more bodied vocals, both male and female, and is overall more forgiving to music, while the Tea is much more transparent and revealing.
Overall, I think that they both please have their strengths and flaws, and which you prefer would really depend on your preference. If you're a happy owner of the Mangird Tea, I wouldn't see a reason to get the Legacy 5 unless my review above sways you. However, I would say the Legacy 5 has a more attractive price point.
Conclusion
The Legacy 5 is an IEM with musical character and I can definitely see that this can be polarising, in the sense that, if this isn't what you're looking for, you may not be a fan. It isn't the most detailed or tonally accurate IEM but performs just enough in these aspects for its asking price. It does have its unique strengths, in its tuning and musicality, which ultimately won me over. I have enjoyed all my listening sessions with the Legacy 5, and I definitely foresee many "Today is a Legacy 5 kinda day" moments in future.
Click HERE for our grading list for earphones