Pros: Bass layering and Subbass extension, Good V-shape tuning, Price-to-performance ratio
Cons: Resolution of bass can be better, Recessed Mids, Cable Quality, Faceplate a scratch magnet
Driver Setup: 1DD + 4BA
Price: US$35
Intro
Disclaimer: I purchased the KZ ZS10 Pro online with my own money and this review is written of my own accord.
The KZ ZS10 Pro is a hybrid IEM by Knowledge Zenith with 5 drivers on each side (1DD+4BA). These have been released a while back but remains one of the more popular selling KZ earphones to date. This review looks at how it fares now in the current market.
Accessories and Build Quality (Score: 6.5/10)
Accessories are the usual as you'd expect of KZ. Nothing new or out of the ordinary. Yes, same old scrummy brown cable. Build quality is quite good, with a stainless-steel faceplate with a mirror polish. However, this is an extreme scratch magnet, and they pick up scuffs from almost anything. Not very OCD-friendly certainly. Not the most creative design, but at $35, I have no complaints.
Fit (Score: 7/10)
The fit is surprisingly poor for an IEM with this shape and form. They lack the curves in the right places and don't sit snugly in the ear. That said, they still fit securely enough for use while commuting and travelling. The nozzle is on the wide side.
Sound (Score: 7.0/10)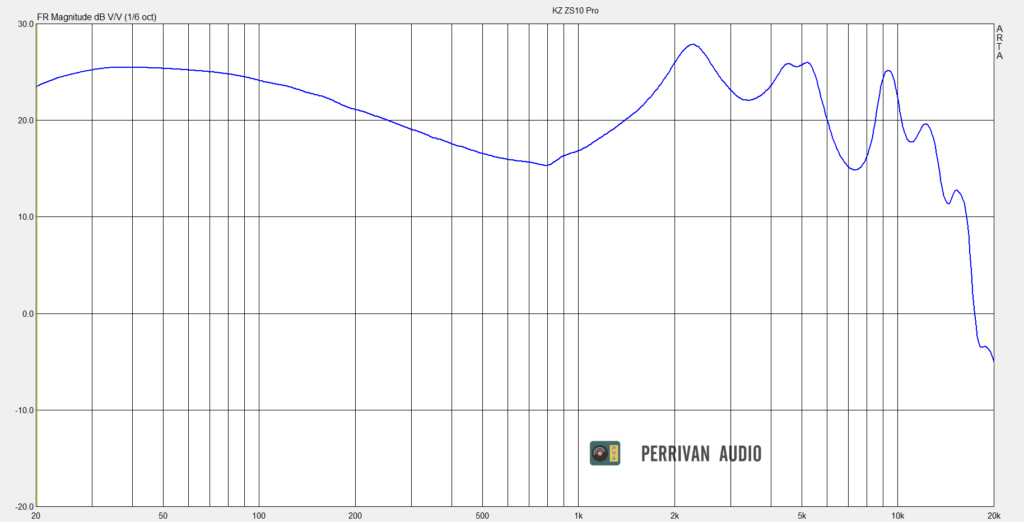 Frequency Response Graph of the KZ ZS10 Pro
The Sound signature is big V-shape, which isn't much of a surprise given KZ's "house sound"
Sources Used
Albums and Tracks tested with
Boston Symphony Orchestra – The Nutcracker Suite
Scary Pockets – Nu Funk
MCR – Danger Days
Imagine Dragons – Smoke + Mirrors
Elton John – Rocket Man, Saturday Night's Alright for Fighting
NEEDTOBREATHE – Out of Body
Michael Buble – To Be Loved
Bass (Score: 7.5/10)
Bass is pronounced and powerful, as expected of a KZ IEM. The sub-bass extends quite well and has a very satisfying rumble when the situation calls for it. There also isn't too much bloating in the midbass, which makes the bass and overall tuning quite enjoyable. The biggest problem in the bass would be that the midbass punch and attack is a little too blunted and doesn't help with the resolution in the bass. The bass is layered well and is very nice on Scary Pockets' rendition of "Always Be My Baby" despite the complicated and fast bassline.
Mids (Score: 6.5/10)
Mids don't have anything special to them and are a little too recessed for my liking. However, I was never a fan of such a big V-shape so that may explain it. My biggest praise for the mids would be that nothing sounds weird and tonality is pretty decent. Vocals sound a little too small and in tracks from My Chemical Romance's, things get a little messy and grainy in the mids. Upper mids are quite pleasant, and I especially like the tonality and airiness of the flutes when listening to "The Nutcracker Suite".
Treble (Score: 7/10)
The lower treble is quite prominent. Resolution and detail retrieval is surprisingly good, as I really wasn't expecting a lot at this price point. It still is audibly not stellar and lacks the finer details. However, the treble is inoffensive and dodges sibilant peaks while still imparting a decent amount of air and sparkle to the treble. A good way to end the V-shape tuning. Things can get grainy in the treble on tracks with a lot of cymbals and Hihats.
Overall
The sound signature is quite enjoyable for casual listening while on the go and there isn't any issues with tonality and sounds rather coherent. Imaging is quite decent for the price.
Conclusion
The KZ ZS10 Pro is the culmination of many reiterations of the ZS series. There have been many problems plaguing the tuning of this driver-packed series. However, KZ seems to be getting the hang of things judging from the tuning of these. Of course, there is much to be improved on, and hopefully, KZ only improves from here.
These won't be my go-to recommendation to anyone, not even to Bassheads as there are many new additions at its current price point that bests it. However, out of the few KZ earphones I have tried, these seem to have the most listenable V-shape tuning and the best price-to-performance ratio. If you are ever curious about KZ, these would be the ones to get … for now, at least.
Click HERE for our grading list for earphones