Updated: Dec 29, 2020
Pros: Excellent fit for average to smaller-sized ears, Beautifully painted shell, Soundstage and Imaging, Treble, Bass, Fun sound signature
Cons: Bass overshadows the mids a little, Lower Mids and Bass Response may be a little sluggish with low powered sources, Cable, Detail Retrieval can be better
Driver Setup: 1 DD + 2 BA
Price: $169 (USD)
Intro
Disclaimer: This review set was graciously lent to me by a friend and the review is written of my own accord. Should you find yourself interested in getting a pair, you can find it online here.
Today I have with me the Shozy Rouge IEMs. These are a beautifully hand-painted IEMs and some of you may find that these earphones share quite a few similarities to another set we reviewed recently – the Kinera Freyas. I'll be doing a full review for Rouge and as a bonus do a little comparison between the two!
Packaging and Accessories (Score: 6/10)
The packaging is a little low-effort, coming in a thin cardboard box holding only a black shell case with everything packed inside. You would never have expected such gems hidden beneath this unassuming packaging.
The included cable is not the best and doesn't handle well. It's quite springy and looks (and feels) like grey spaghetti. Personally, I didn't think the aesthetic of the cable was a good match for the earphones either.
Build Quality and Fit (Score: 9/10)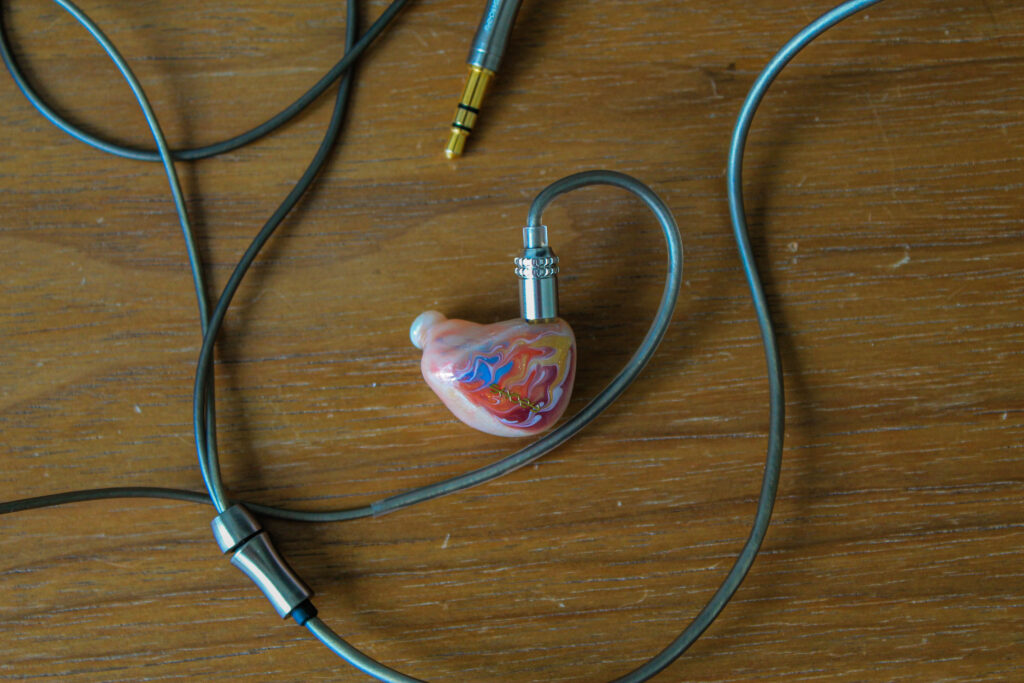 Anything less than a 9/10 would be an absolute injustice to these beautiful pair of IEMs. The shell is pretty well-sized and on the smaller side. Hence these were a snug fit in my slightly smaller than average ears. Moving on to the aesthetics, the shells feature swirls of glittering colours, namely pink, red, sky blue and hints of gold.
Sound (Score: 7.9/10)
Frequency response of the Shozy Rouge
I would describe the sound signature of the Shozy Rouge as a pretty well-tuned and enjoyable V-shape.
Sources Used
Hiby R5
Hiby R6
Lotoo Paw S1
Samsung Galaxy S10e
Albums and Tracks tested with
Jersey Boys Original Broadway Recording
Andy Gibb – The Very Best Of
Michael Buble – To Be Loved
Hillsong – Highlands (Song of Ascent)
The Click Five – Greetings From Imrie House
NEEDTOBREATHE – Out of Body
Capital Cities – In A Tidal Wave Of Mystery
Aladdin Original Broadway Recording
Bass (Score: 8/10)
The authority of the Bass on the Rouge took me by surprise. It's relative punchy and very nicely textured. There is a good amount of layering and adds a sense of separation and detail in the lower end. This was quite apparent in Jersey Boy's "Can't Take My Eyes Off You". My main complaint at times would be that the bass can overshadow the lower mids and even male vocals at times because they are just a little too loud. Thankfully the bass isn't bloated or boomy which helps make the overall sound still quite enjoyable. The performance in the low end remains nonetheless impressive.
Bass can be a little sluggish and clumsy if these are powered using a weaker source like my Samsung phone. These shone much better on more powerful sources like my Hiby R5.
Mids (Score: 7.5/10)
The mids are quite clearly the weakest link in the tuning of the Shozy Rouge, which shouldn't come as a surprise given the V-shape tuning. The lower mids tend to sound a little suppressed and small. They aren't given their own space to shine and very often are shadowed by the Bass.
The upper mids are a little more forward and prominent but they can get a little thin at times. Instruments like trumpets could use more timbre in Aladdin's "Arabian Nights" and UB40's "(I Can't Help) Falling in Love with You".
Overall the mids are still pleasant but could use a little more resolution and presence.
Treble (Score: 8.5/10)
Treble is one of the best-tuned parts of the Rouge. It isn't peaky or harsh anywhere but has plenty of air and sparkle. I especially love how bar chimes sound on these. The timbre is so natural and pleasing it puts a smile on my face. Crash cymbals and Hi-Hats have a very nice natural decay and shimmer.
Overall
Soundstage and Imaging are really impressive on the Shozy Rouge. Listening to Michael Buble's rendition of "You've Got A Friend in Me", I really enjoyed the staging and positioning of the instruments. I must say I was pretty impressed with these in that aspect when they were properly juiced up with an amp and given the power they need. Overall, these have a relatively fun sound signature and my biggest complain would be a better balance in sound (mostly toning down the bass a little). One thing the Rouge could improve on would also be the resolution in the mids. However, keeping in mind these are beautifully-painted earphones at a price of slightly above 200, expectations should be kept in check.
Comparison
Shozy Rouge vs. Kinera Freya (Review here)
I've had the opportunity to test both the Rouge and the Freya. In terms of Aesthetics, I would have to give the crown for aesthetics to the Freyas. The Freyas have a better cable, accessories and a more impressive mix of colours. However, they are just a tad too big and bulky, making them a hard fit for my ears. On the other hand, Shozy has nailed the size of the Rouge.
In terms of tuning, I very much prefer the tuning on the Rouge. There are better resolution, separation and imaging on the Rouge. The area I would give the Freyas the edge would be the lush mids, something the Rouge could improve on. Overall, I think the Rouge just does so much more and still looks drop-dead gorgeous, all at a lower price tag.
Conclusion
TLDR, the Rouge is quite an impressive release from Shozy. It manages to deliver a well-tuned sound packaged in a gorgeous shell at a relatively accessible price. To be honest, I had tame expectations for the Rouge after my experience with the Freya, and this was very much a pleasant surprise. I look forward to more Shozy releases in future!
Click HERE for our grading list for earphones