Updated: Mar 25
Pros: Build Quality, Soundstage, Excellent Price to Performance ratio, Detail Retrieval
Cons: Fit, Isolation, Microphonics, Tonality can be cold
Driver Setup: 6.8mm Dynamic Driver
Price: 23USD
Intro
Disclaimer: I purchased the DQSM Hermit from Aliexpress with my own money and this review is written of my own accord and all thoughts here are my own.
I've not heard of this brand prior to my experience with these and a quick search online yielded little results, apart from another product, the Turandot, which is a flagship earbud in a polished metal shell, at a flagship price of 200USD. The Hermit we are reviewing today lies on the other end of the spectrum, an entry-level earphone at a price of slightly over 20USD. I did hear some good things about these and decided to give these a try. Without further ado, let's dive right in!
Accessories and Build Quality (Score: 8/10)
It comes packed in a clean white box. Included with the earphones, are a little pouch, silicon tips, a cable clip and some winged hooks to improve fit.
Build quality is surprisingly good, and they have a similar form factor to Moondrop's Spaceship earphones. The shells are made of polished metal and the cable though fixed, is rather sturdy and thick enough to stand significant abuse.
Fit (Score: 7/10)
Fit is a hit or miss. They are alright for me, though not the best. The earphones themselves are quite small and should be a comfortable fit for smaller ears. However, these earbuds are word with the wire hanging down, and with the heft of the buds themselves, they tend to lean out of the ear.
Overall, they stay in my ear well I'm sitting at my desk without needing much adjustment. However, when I'm on the move, these have significant microphonics (hence the included cable clip) and tend to slowly slip out of my ear after a lot of movement (explaining the inclusion of rubber wing attachments).
Sound (Score: 7.9/10)
Frequency Response Graph for the DQSM Hermit
Sources Used
Albums and Tracks tested with
Itzhak Perlman
Broods – Free
Why Don't We – The Good Times and The Bad Ones
10cm – 4.0
Michael Bublé
Gryffin
NEEDTOBREATHE
Scary Pockets – Agoraphobia
James Bay – Let There be Love
Galantis – Church
Coldplay – Everyday Life
Aladdin – Official Broadway Recording
Bass (Score: 8/10)
Bass goes sufficiently deep and is quite punchy and airy, as expected of the double vented shell. This gives a very layered nice soundstage to the bass. There is also no bleed and everything is very clean and textured. The bass punches well enough to avoid being dry and dull. Due to the isolation issue, if a good fit isn't achieved, or if your surrounding is rather noisy, the bass is the first to suffer. When powered sufficiently, the base punches hard and has a nice tonality without any bleeding. It just plays its role so well in the open expansive sound of the Hermits.
Mids (Score: 8/10)
Mids are very open and neutral sounding. My biggest gripe would be the upper mids emphasis. This earphone leans towards a brighter sound and on certain tracks, it can get a little fatiguing for people who aren't used to this sound. Male vocals can sound a little thin and tonality could be better. Instruments like violins and female vocals steal the show more. That said, the detail retrieval or the mids is simply spectacular and blows many sub-$50 IEMs out of the water in this aspect.
Treble (Score: 7.5/10)
Treble is well done, especially when taking the price into consideration. Admittedly, there is noticeable grain and the timbre and extension are not as what would find in much more high-end single dynamic drivers out there such as the Moondrop KXXS. However, the treble is well presented with an emphasis on the lower treble. On top of that, the Hermit deftly avoids sibilance and harshness.
Overall
I would describe the sound signature of the DQSM Hermit as neutral-bright. The star of the show is definitely their soundstage and imaging. It is one of the best I've heard for under 50. The detail retrieval is also pretty impressive. One thing to note is that these require quite a bit of power to shine and they may sound a little weak in the lower end when powered with my Samsung S10 phone or even on an iPhone with a dongle. They only sounded decent when powered through my Hiby R5 DAP or desktop amplifier.
Comparison
Tin T2 (Review here)
The DQSM would lose in terms of build and fit as I would tip the scale in favour of the T2 because of their removable cable and the option to wear them over the ear to reduce microphonics.
Otherwise, I would say that these 2 earphones share quite a lot in common with their vented design and a rather neutral-bright sound signature. They both have a rather wide soundstage with the Hermit sounding a tad more expansive. Detail retrieval on the Hermit is also better than that of the T2s.
Conclusion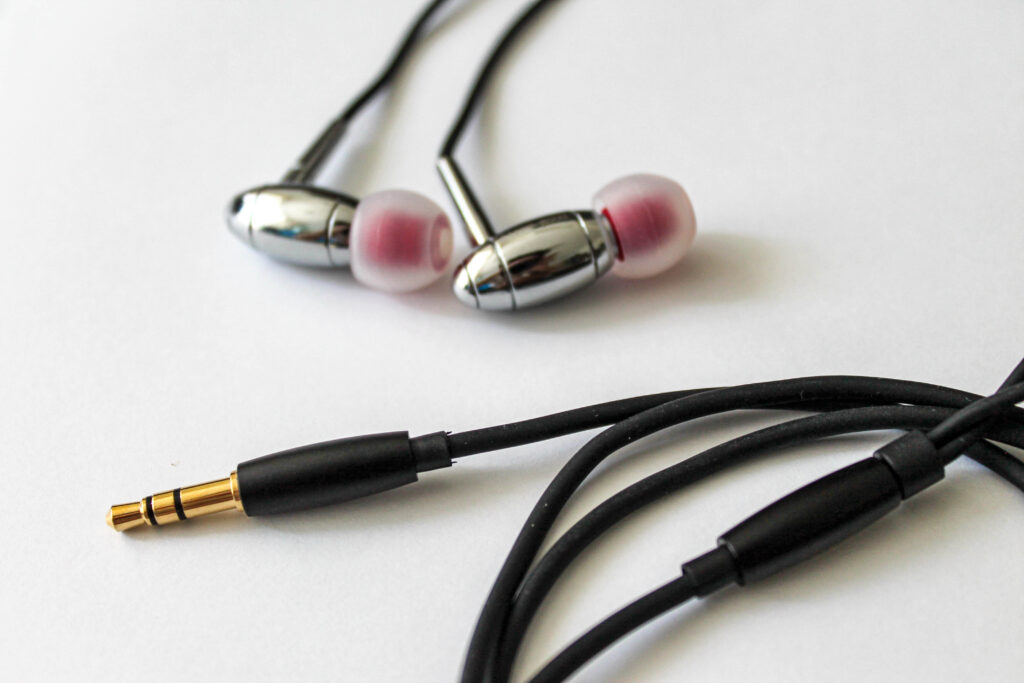 The DQSM Hermits are an extremely refreshing release from this new company and its releases as such that keep me in love with this hobby. To everyone considering these, just grab a pair to try! I've immensely enjoyed my time using them in my study sessions and its sound is as good as it gets for its price.
The only things holding it back are that its weak isolation and bad microphonics make it impossible for me to take them on my commutes. The unremovable cable and fit may be an issue as well. Most importantly, the Hermit is EXTREMELY picky with sources and requires a ton of power to shine. Most phones and stock dongles won't make the cut and hence making the Hermit a pretty niche pair of buds. Nevertheless, when given the necessary ingredients, the Hermits come out of their shells and really shine.
Click HERE for our grading list for earphones