Pros: Good separation & detail, Extends well in treble and bass, Punchy and Fast Bass
Cons: Build, Cable Ear guides, Upper midrange and lower treble tonality
Driver Setup: 13mm Dynamic Driver + 1 Balanced Armature Driver + 5-layer piezoelectric driver
Price: US$129
Intro
Disclaimer: This review set is a demo graciously lent to me by Daniel at Oardio. This review is written of my own accord and all thoughts here are my own. The BQEYZ Summer is available for purchase from Oardio through their website here should you find yourself interested in a pair.
The BQEYZ Summer is a pair of tri-brids containing a dynamic driver, a balanced armature driver, and lastly a piezoelectric driver. It's a combination that worked really well for BQEYZ in their previous model, the Spring. Now we're moving to the next season – Summer.
I haven't tried the Sping 1 or 2. Hopefully, I'd get the chance to try them in the near future. That said, it's good to be able to look at these tri-brids from BQEYZ with a pair of fresh eyes.
Accessories and Build Quality (Score: 7/10)
Accessories are decent and they've more or less got you covered with all you need out of the box. Included are 2 sets of silicone tips. The Blue ones have a stiffer stem which I find to make the sound a tad bit brighter.
Build quality is a little sus for an IEM at this price point. It's made out of plastic, the kind you usually see from in KZ's entry-level buds. Not only that, the shells have some tacky glitter in them, reminiscent of the TinHiFi T1 Plus which I wasn't exactly a fan of. Aesthetics aside, these seem adequately well-built and should hold up well to daily use.
The stock cable is an 8-core Silver-plated Copper (SPC) and comes in 3 possible terminations, 2.5mm and 4.4mm balanced, as well as the usual 3.5mm single-ended. The cable quality is mostly alright, apart from the ear guides, which are really stiff and causes the cable to slip over my ear occasionally.
Fit (Score: 6.0/10)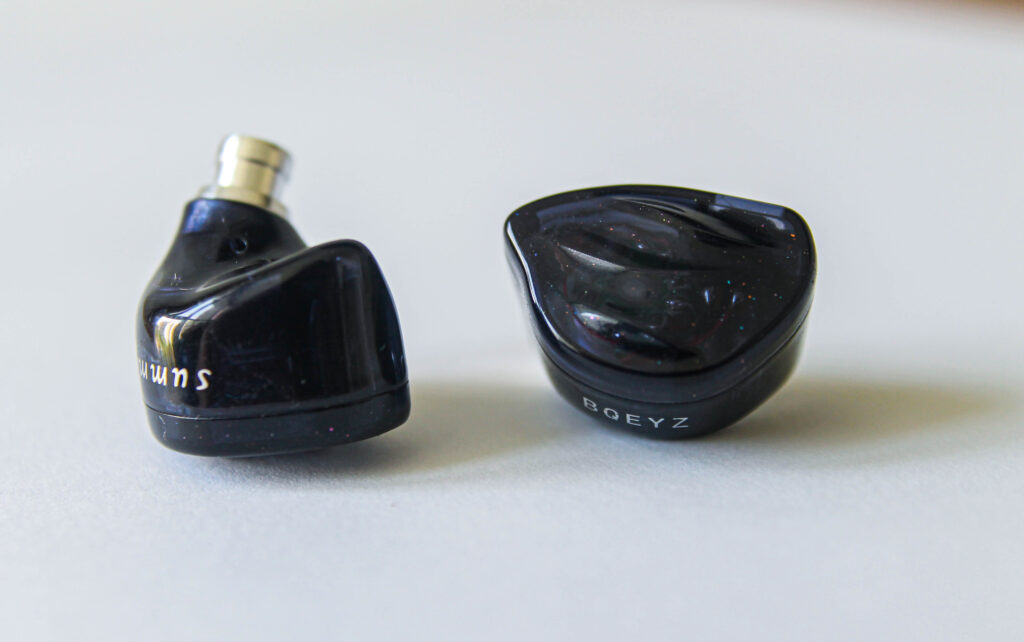 My experience regarding the fit and comfort of the Summer was mediocre. The finicky ear hooks sure didn't help at all. The plastic shell, though, was light and kept the weight of the IEMs down so that was a plus. However, the nozzle is on the shorter side so you had to find the right tips to help achieve a good fit and seal. The issue is that I find the Summer's sound to be very tip sensitive. I eventually settled on a pair of foams so as not to lose out on the bass extension from the breaking of the seal. This also helps to tame the upper midrange and treble a little.
Sound (Score: 8.0/10)
Frequency Response Graph of BQEYZ Summer
Sources
SMSL M200 + Schiit Magnius
Lotoo Paw S1
Music listened to
Chicago Symphony Orchestra – Beethoven Symphony 7
The Vamps – Cherry Blossom
Stevie Wonder – In the Key of Life
Bastille – All This Bad Blood
The Lumineers
Børns – Blue Madonna
Paul Kim
Dyan – Looking for Knives
Andy Gibb – The Very Best Of
Chris McClarney – Everything and Nothing Less
Bass (Score: 8.5/10)
One of the best parts of the Summer has got to be the Bass. It is punchy and fast, extends deep and most importantly, clean. Drums, both snare and kick drums, have a very nice texture to them that is somewhat multidimensional; both heard and felt. I really enjoyed the timbre of the drums and its coherence with the bassline on Stevie Wonder's tracks.
The Bass extends well into the sub-bass regions, providing a satisfying rumble that completes pop and rock songs. I did not notice any mid-bass bloating or bleeding, and the separation and quick decay just made everything super enjoyable.
Mids (Score: 7.5/10)
The lower mids are a little recessed, which intensifies the upper midrange and treble peaks. If you're expecting meaty mellow bodied mids then you would be disappointed here. Male vocals on tracks by X Ambassadors, Coldplay and The Lumineers sound and feel a little "compressed".
Upper midrange and lower treble tonality are ever so slightly off but I can't put a finger to it. Might be the piezo tweeters' sound that I'm not used to. Listening to instrumentals confirms this, where Hi-Hats, violins have a little difference in tonality that I'm not used to.
That said, the detail retrieval and separation here is once again excellent. There is no harshness despite the emphasis in the upper regions. Listening to Børns, his vocals and synths are layered perfectly and shine through brilliantly in his album Blue Madonna.
Treble (Score: 8/10)
There is a lot of lower treble. This can be a little fatiguing when listening for prolonged periods. Don't get me wrong, the Summer isn't sibilant at all. It's just the tonal balance in the upper midrange and lower treble just makes it a little tiring on certain genres. Nevertheless, the Summer does well in its technical ability and detail retrieval. There are tracks where hearing things I don't usually do with earphones in this price range. There is also a decent amount of sparkle and upper treble extension, contributing to the soundstage, especially when amped.
Overall
Imaging and soundstage seem to benefit from some amp-ing. Or maybe the Summer is very picky with the source. It sounds a little more energetic and with depth on my desktop amplifier.
Comparison
VS Thieaudio Legacy 3 / Legacy 4
The BQEYZ Summer is in between the Thieaudio Legacy 3 and 4 in terms of price. Comparing the Summer to the Legacy 3, which has a current RTP of $100, the Legacy 3 comes out tops for build quality and comfort. In terms of sound, they have rather different approaches to tuning. The Legacy 3 trades detail and accuracy for a warmer, luscious sound that is richer and thicker in the mids. Vocals would sound meatier on the Legacy 3. On the other hand, the Summer has a more serious sound, beating the Legacy 3 hands down in detail retrieval, especially in the bass and treble regions.
Taking it a notch up and comparing the Summer to the Legacy 4, it would still lose out in build and comfort, though it doesn't lag too far behind in sound. I liked how the Legacy 4 provided a big improvement in detail retrieval from the Legacy 3, however, the Summer is no slouch and its ability for its price keeps it in the game. That said, I would say the overall tonality is slightly more accurate on the Legacy 4. However, it is worth noting that the Legacy 4 does get a little more fatiguing faster than the Summer as well (YMMV).
Conclusion
I came into this review without many expectations, given my limited experience with BQEYZ products and a not so positive first impression given the build of the Summer. However, I must say that this has been a pleasant surprise. Right from the first moment I tried on these IEMs, I was certainly impressed. With so much done right, BQEYZ certainly should start working on their fit and find an IEM shape that fits without comprising the build quality.
The summer strikes a good balance between technical ability and having an engaging sound. It has a really enjoyable bass performance that is technically capable yet dynamic as well. This is a very well-done V-shaped sound signature earphone and exceeds what's expected of it at its price point.
Click HERE for our grading list for earphones