Pros: Value, Basshead, Fun, Imaging and Soundstage, Build and Cable, Fit
Cons: Technical Performance, Treble Extension, Basshead
Driver Setup: 2DD + 7BA
Price: US$169
Intro
Disclaimer: This review set is a demo graciously lent to me by Daniel at Oardio. This review is written of my own accord and all thoughts here are my own. The BGVP NS9 is available for purchase from Oardio through their website should you find yourself interested in a pair.
The BGVP NS9 is a 9 driver Hybrid IEM featuring a combination of Knowles, Sonion and inhouse BA drivers, coupled with a liquid silicone double DD driver unit. It supposedly features interchangeable nozzles that tweaks the sound signature slightly but I'll discuss more on that later.
Accessories and Build Quality (Score: 9/10)
BGVP once again doesn't disappoint in their build quality. It features a fully CNC-ed aluminium shell that feels reminiscent of the Fiio FH5.
The demo unit I was lent did not come with the packaging and just the accessories. The cable a very nice 4-wire braided cable which has the vibes of a downsized UM MEST Cable. The set I received has a 2.5mm termination. Simple Quality stuff as we are used to seeing from BGVP.
Fit (Score: 8.0/10)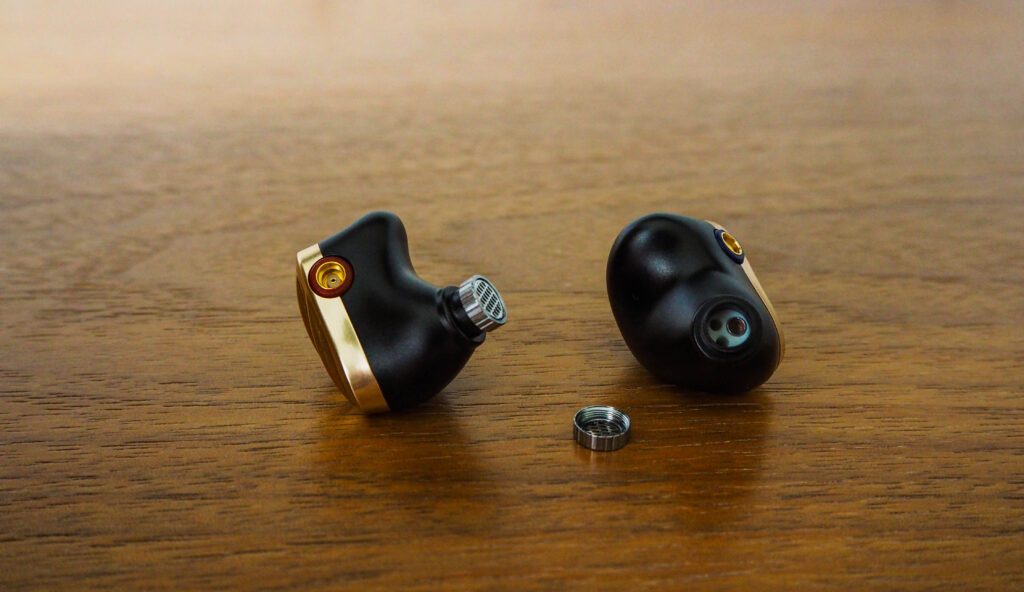 BGVP did a good job at making these rather big IEMs comfortable. They are weighty but are well-rounded and fit snugly in the ear. The contours of the IEM were well-machined without any weird bumps in the design. Overall, I didn't experience any fatigue or discomfort using these for hours on end.
Sound (Score: 7.3/10)
Frequency Response of the NS9 courtesy of Oardio
Sources Used
Albums and Tracks tested with
Itzhak Perlman
Broods – Free
Why Don't We – The Good Times and The Bad Ones
10cm – 4.0
Michael Bublé
Gryffin
NEEDTOBREATHE
Scary Pockets
Boston Symphony Orchestra
Lumineers – Cleopatra
Bass (Score: 6.5/10)
I know I've said this for a lot of IEMs but hear me out, the NS9 has basshead levels of bass. These have a more subbass focused bass, and the extension is quite impressive. Unfortunately, the balance is a little too warped to the extent that the changeable filters don't tilt the balance enough for people who prefer more balanced-sounding sound signatures.
The midbass also gets a little loose and unrefined at times and becomes apparent in tracks with prominent bass and drums or instruments like tuba and bass. This dulls the overall impact and punch in the bass and takes away some of the enjoyment. I wouldn't say this bass tuning is my cup of tea
Mids (Score: 8/10)
On tracks that didn't have a bassline that stole the show, I found myself able to enjoy the mids quite a bit. The upper mids and vocals are quite pronounced. They are forward and smooth without coming across as thin or shouty. Listening to The Lumineers, the soulfulness and emotion in the male vocals were carried through.
Brass band tracks are quite the experience, with the separation of layers between different horns. The trumpets have a very pronounced, articulate and texture sound, while the trombones are very meaty and bodied sound.
Treble (Score: 7.5/10)
Treble didn't have any weird peaks apart from a little metallic timbre in the lower treble in certain tracks. I think the treble timbre was better done on their DH3 and DM8 IEMs that I've reviewed previously. Overall, it wasn't harsh and still mostly quite pleasing, let down only by a lack in upper treble extension, which I expected more from an IEM in this price range.
Overall
The best part of the NS9 is its soundstage and imaging qualities. While not to the extent you get with open-backed headphones, it is quite impressive for an IEM. Regarding the filters, I didn't find much noticeable change between the filters besides some minute changes in the upper mids and treble.
Comparisons
VS Seeaudio Yume
Full review of the Seeaudio Yume
The Seeaudio Yume is at exactly the same price point as the NS9. The Harman-ish tuning of the Yume is more in line with my tastes and is overall better in resolution as well, especially in the lower region. Hence, the Yume is much more of a value purchase than the NS9 unless you're in the search for a more bassy IEM. In that case, the NS9 would be able to better satisfy that itch.
Conclusion
The BGVP NS9 is quite an interesting product in the BGVP lineup. It boasts an impressive hybrid driver count, which is something similar to the BGVP DMG family of IEMs. That said, this IEM's technical ability is its main bottleneck and the NS9 puts forward more fun and musicality than accuracy, making this more of a specialist IEM and limited in the genres it shines in. I'm sure not everyone would like it, and in fact, some may detest it. However, I do see its appeal, and perhaps for its target audience, aka bass lovers, it would be a joy to listen to. Personally, there is an increasing number of IEMs that are performance-focused at the same price and I would find myself preferring the sound profiles of those over the NS9.
Click HERE for our grading list for earphones