Pros: Handcrafted, Build Quality, Comfort, Isolation, Tuning
Cons: Rather Dull Case, Prone to Scratches, Limited Colourway (Grey or Pink)
Price: SGD $159.00
Intro
Disclaimer: This review set is a demo set graciously lent to me by Daniel at Oardio and the review is written of my own accord and all thoughts are my own. The TIPSY TM-1 MR MISS is available for purchase from Oardio through their website here should you find yourself interested in a pair.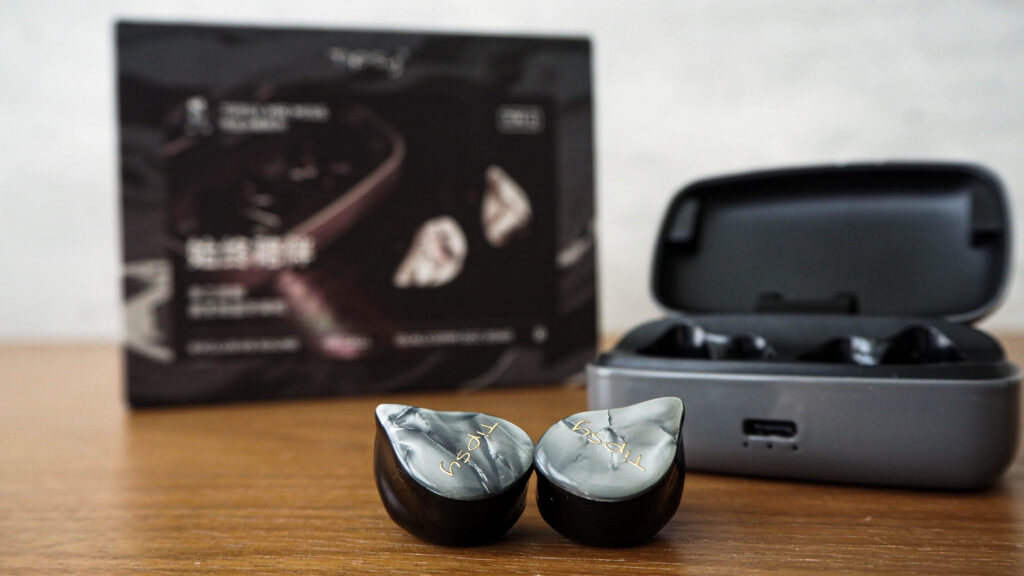 In case you didn't know, the Tipsy TM-1 was handcrafted by Tipsy and unlike other generic TWS, it was designed to have a semi-custom fit. In this review, I will be going through its features, build quality/fit, and how it sounds. As this is our second TWS review, do let us know in the comments if you wish to see more TWS featured on our reviews!
Specs
Chipset: Qualcomm QCC304
Bluetooth 5.0
Gesture controls for Play/Pause/Power/Calls
USB Type-C Charging Port
IP54 Water-Resistant
Features an 8mm DLC Diamon Like Carbon Diaphragm Dynamic Driver
Battery life
Buds: 6 Hours/Charge
Case: 50 Hours/Charge
Build Quality and Fit
Okay, this has got to be the fanciest TWS I have seen in the entire TWS market. The Tipsy TM-1's shell is made of resin and as mentioned above, it was handcrafted! Now it may seem unorthodox to mass-produce a product like this but it does earn some bonus points on value due to the craftsmanship that went into this product. The Tipsy TM-1 looks and feels premium which really makes it stand out amongst all the other TWS offerings in the market right now. Build wise, I have ZERO qualms with it and I just hope that if any other brands were to offer their own line of TWS, they can take a look at this dazzling masterpiece first.
Fit wise was superb. It feels just as good as any other semi-custom IEMs that I owned without those wires running around my ears. It was so comfortable wearing them and they are very good with their passive isolation. The overall design, choice of materials in the resin build, and rounded edges just make the experience so much better and enjoyable.
Sound
Bass
Bass levels are slightly elevated but I guess that is the norm in the world of TWS nowadays. Mid-bass is actually quite impactful, punchy, strong and clear. Sub-bass-wise, you do have some rumble but it is definitely not ahead of its mid-bass in terms of prominence. Although not a technical set, there is just enough separation and clarity that will surely satisfy most out there in the consumer market. Overall, I do like how the TM-1 is tuned as it isn't just one of those TWS that has insane bass boosts but a well-textured one with a good decay.
Mids
Vocals are clear and distinct with the slight recession in its male vocals as compared to its female counterparts. Upper mid-range regions are not super boosted to give that fake detail which is another good sign as it allows a more pleasant listening experience without any overly prominent shortness. Overall, the mid-range performance is decent with adequate detail retrieval given that it is a TWS.
Treble
I do feel that there are some boosts to its lower treble but not to that extent that it sounds sibilant. For those who are sensitive to these regions, I do notice that high hats, cymbals, and percussive shimmers are quite prominent on this set. Although there are boosts to the lower treble, I also detected some treble roll-off which kills some of the "airiness" in its overall treble presentation.
Conclusion
I am very very happy with the Tipsy TM-1 Mr Miss as it checks most of my boxes if I were to pick and choose a TWS for myself. As someone who has been in portable audio for some time, I am really impressed with what manufacturers are able to do now. The superb build and fit is a major winning point for the Tipsy TM-1, responsive gesture controls on the faceplate for playback options just make it a more well-rounded option. The Tipsy TM-1 also sounds pretty decent when compared to other options such as my Sony WF-1000XM3.
I rate the Tipsy TM-1 over most TWS options out there due to its build and design, as well as its neat gesture controls on its faceplate. I advise treating these buds carefully as scratches and damages will be rather obvious due to its glossy resign colourway as well as sensitive touch/gesture controls.