Pros: Well-Tuned V-Shaped, Bass quantity, Warm, Tonality and balance
Cons: Lower Treble Peaks, Rolled-off treble, Technicalities
Driver Setup: 1 Dynamic Driver (12mm Double magnetic circuit Graphene driver)
Price: $50 (USD)
Intro
Disclaimer: The TFZ T2 Galaxy was graciously lent to us by mistereden from Carousell Singapore for review purposes. It currently retails at $74.00(SGD).
After the S2 Pro that we reviewed last week, we managed to get our hands at the T2 Galaxy which is priced a tier higher than the S2 Pros. They do look stunning right out of the box and I was immediately hopeful for how they sound!
Accessories (Score: 5.0/10)
The unit comes in a white box which consists of the T2 Galaxy earbuds, a recessed 0.78mm detachable 2 pin cable, 6 pairs of silicone tips, a carrying pouch as well as a shirt clip. All bases are about covered here, meeting the basic needs of every user with no fancy gimmicks to add on to its cost.
Build Quality and Fit: (Score: 7.5/10)
Fit wise, the T2 Galaxy really sits well in my ears with very smoothed out and rounded edges which allow longer periods of listening when I am on the move. A point to note that I only managed to achieve seal and isolation by swapping tips to Final Audio's tips. The detachable cable does have a rubbery feel which may irritate some of you but surprisingly, the unit is built really well and seem to be able to withstand daily usages without giving way.
Sound: (Overall Score: 7.3/10)
The T2 Galaxy also like the S2 Pro, both have a V-shaped sound signature but with an improved mid-range and slightly more forward lower treble.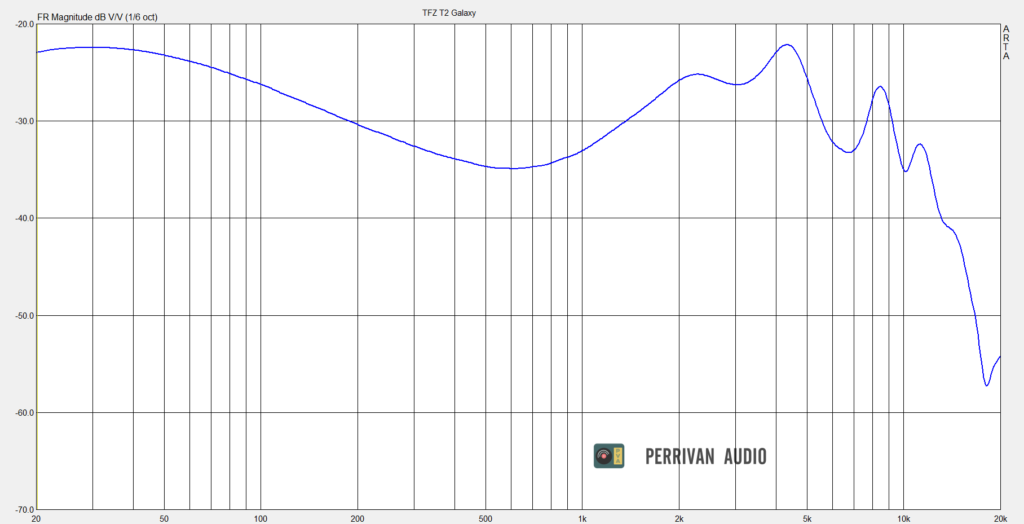 Frequency Response of the T2 Galaxy
Sources used
Ibasso DX120
IPhone XR
Atom DAC and AMP
Music and Albums, I listened to
Alan Walker – Alone/Faded/Darkside
Billie Eilish – When we all fall asleep, where do we go?
Tchaikovsky 1812 Overture
Chainsmokers – Sickboy
Cigarettes After Sex – Cry
The White Stripes – Seven Nation Army
One Republic – Human
Keane – Fears and Hopes
Nino Rota – The Godfather OST
Kygo
Fedde Le Grand – Cinematic
ARTY – Rebound
ACDC – Highway to hell
Bass (Score: 7.5/10)
To be honest, I find the sub-bass extension nicely done here and it is one of its main selling points which gives that deep rumbling body to tracks. However, mid-bass does take a more relaxed stance by cutting back some impact and punch which I still find acceptable despite sub-bass being more forward. I do wish it has slightly more impact as well as having more detail and separation but given at this price point and set up, it is tough to achieve excellence in all areas.
Mids (Score: 7.0/10)
The mid-range in general sounds recessed but it doesn't sound as thin as I expected which is surprising for many V-shaped IEMs. Many IEMs that sports such tunings usually suffer from weird tone from its mid-range which I find it acceptable on the T2 Galaxy given its tuning directions. Kudos to TFZ as they have proven that they are able to achieve such tuning without sacrificing too much of its mid-range tonality and timbre.
Treble (Score: 7.0/10)
The T2 Galaxy has a very forward lower treble which makes it sounds slightly metallic but then again, it is after all tuned as a V-shaped IEM. Fortunately, it is not sibilant at all despite the slight boost in the 8Khz region which seems to be a trait common to many TFZ IEMs (The S2 pro is one such example).
I do feel that the highs aren't very refined, nor does it provide huge amounts of detail. What the T2 galaxy did provide was an emphasised lower treble to give that sense of air in its presentation, metallic trait which goes well with EDMs and trance, and a fatigue-free treble experience for listeners.
Overall:
I do feel that the T2 galaxy sounds more intimate rather than having a spacious soundstage. However, it does possess some plus points in its tonality and balance which is a pretty good characteristic under the $100 mark. It is definitely one of the better sounding V-shaped tuning IEM that I have heard at this price point.
Conclusion:
Despite not being a fan of V-shaped signatures, I am surprised to find myself enjoying it more than I expected. It is uncommon to see these around and I am quite impressed with its build and overall value that it brings to consumers. For its sonic performance, it might not be perfect, and it comes with some quirks such as the rolled off and conservative tuned treble but, it is one of the better-tuned sub $100 budget IEMs out there. Check out the TFZ S2 Pro here.
Click HERE for our grading list for earphones