Pros: Warmth in Tuning, Build Quality and Packaging, Fatigue-Free Fun
Cons: Upper midrange tonality, Also Bass, Fingerprint magnet, Detail and Treble Extension
Driver Setup: 1DD
Price: US$120
Intro
Disclaimer: This review set is a demo graciously lent to us by Oardio as part of TForce's Yuan Li Singapore review tour. This review is written of my own accord and all thoughts here are my own. The TForce Yuan Li is available for purchase from Oardio through their website should you find yourself interested in a pair. This review is a joint review by both Chinerino and Perry.
As we all know, the Chinese audio industry is now pretty stacked with numerous competitors with several hits and misses when it comes to delivering that "all-in-one-wonder" product. Of course, competition is great and it motivates companies to improve and deliver superb value to its customers and from what I can observe this time, TForce did a pretty neat job with their debut "Yuan Li". It is a single dynamic driver that seems polished and mature given the good amount of time in the OEM industry TForce came from. In this review, we shall assess its value proposition and most importantly sound, how it compares and what it does well.
Accessories and Build Quality (Score: 8.5/10)
The packaging box has this modern oriental theme where everything is black and gold. the overall unboxing experience is rather fancy, as it really does feel very premium from top to bottom.
The Yuan Li comes with a generously sized pouch with a faux leather finishing. The magnetic clasp is a nice touch. The cable is very well-made sturdy for a stock cable. It reminds me of the Tin T4s in terms of the material used in their cables which is a kinda rubbery kind of sleeving that I feel may go "sticky" as time passes. That said, it goes well with the overall aesthetic of the IEM so I have no complaints there, in fact, I'm rather impressed with the quality of the accessories you are getting.
The IEM has a mirror finishing that you either love or hate. However, it is very well done and the IEM feels one tier above what you paid for when handling it.
Fit (Score: 8.5/10)
The Yuan Li has an all-metal build, feels robust and premium to the touch and looks durable to knocks and dents as well. However, it is chromed and finished which means it is going to be a fingerprint magnet. Despite having an all-metal build, the shell is rather light. It's just the right size for my smaller ears and sits snugly without breaking the seal. It has one of the best fits for a metal shelled IEM. I would pick this shape and fit over the KXXS. Good job to TForce Audio for nailing these essential aspects of what makes an IEM great as compared to others.
Sound (Score: 8/10)
Frequency Response Graph of the Yuan Li
Sources
Samsung S10e
Hiby R5
Lotoo Paw S1
Perry's Music
Busted
The Kid Laroi – Stay
The Strokes – The New Abnormal
ELO – Mr- Blue Sky
Tchaikovsky's Nutcracker Suite– Boston Symphony Orchestra
Vivaldi's Bassoon Concertos
NEEDTOBREATHE
etc
Chinerino's Music
Aladdin OST
Halo OST
Tchaikovsky Piano Concerto 1
One Republic Native Album
Keane Everybody's Changing
Green Day American Idiot
Post-Modern Jukebox Pokerface (Kelley Jakle)
Scary Pockets (I Will Survive)
Zee Avi Dream a little dream of me
[Perry's Take]
Bass
The Bass is very pronounced, forward and well-extended. Subbass rumbles well with no midbass bloat to mar things. Bass lovers should like the bass response of the Yuan Li. It does have a decent amount of control in the lower end to not come across as a loose cannon. However, the bass quantity does get a little satiating for me. Switching to wide-bore tips did help in this aspect a bit.
Mids
The midrange was a bit of a mixed bag for me. I'm more of a mids person and there's just an occasional unnaturalness in the Yuan Li I can't just pinpoint. That said, there are times where the midrange just come to life, especially instruments like electric guitars and saxophones. They have a very energetic presentation that can be quite refreshing. [The Strokes – The New Abnormal]
However, I have some issues with the midrange tonality, which is especially apparent when listening to specific instruments such as violins. It sounds a little unnatural and congested. If you're particular about the accuracy of instrumentals or if your music library is full of ensemble repertoire then perhaps this may not suit you most. This bothered me quite a bit as I do listen to quite a bit of strings.
Listening to pop songs generally plays to the strength of the Yuan Li owing to its V-shape tuning. Hence, this colouration or tonality quirk (call it what you might) isn't as apparent and in fact, the overall tuning keeps things rather engaging, with the focus in the head-banging bass beats and the synths. Presentation is very forward and, in your face, similarly intimate/forward as the Starfield with slightly more breadth but less depth.
Treble
Treble is alright. Nothing spectacular, it's crisp and tight but timbre can be better. On poorly recorded tracks, the treble grain is really in your face.
Things like drum sets and cymbal strikes sound a little bland and lifeless. Take note, the lower treble is very much present, but overall, the highs could do with a little more air and sparkle. The highs lack a certain je ne sais quoi to complete the instrumental timbre and the Yuan Li seems to miss out on that. It's not to the extent that it makes the Yuan Li bad but simply an apparent bottleneck.
[Chinerino's Take]
Bass
In the bass department, it is quite emphasised. Sub-bass rumbles with authority while steering clear of making the entire presentation muddy. Midbass punches well and does not bleed as much as I had expected. A good point to note here is that for the price, bass notes are really textured here, which will surely put a smile on mid-bass lovers or people who appreciate warmth throughout their tracks. I feel the Yuan Li stuck a pretty good balance between quantity and quality which is uncommon and on top of that, it has decent dexterity and an okay-ish level of detail/separation given its tuning philosophy.
Mids
Mid-range vocals are relatively placed behind in terms of presentation. Many times I find the track instrumentals to be equally on-par with the lead which some may not like but it does give a different feel to their entire song. It is not bad per se, but it just creates a different perspective on how we appreciate our tunes. Ballads and solos still sound accurate and gorgeous but do expect less intimacy. There aren't many upper midrange peak issues which are great as I am quite sensitive towards that region. Overall, the mid-range presents a more spaced out kind of stage, with less intimacy but a wider scene for its listeners.
Treble
No peaks or sharp sibilances that drive me crazy but rather tamed and conservative take in the treble parts. Not to say that they are taken over, the treble parts are still very noticeable. Sparkles and shimmers still find their way to stand out but similar to the mids, they are staged relatively behind so it is not really in your face which again falls back to your preference. Personally, I find the detail retrieval here isn't stellar or spectacular with average technical separation capabilities. What it does well here is that it completes the picture for the Yuan Li, a warm fatigue-free experience.
Overall
Staging has good breadth; however, this is at the expense of imaging accuracy and presentation.
Your mobile phone will get Yuan Li loud enough to listenable levels. However, what I did realise playing around with sources is that it's quite revealing of the flaws in the source, especially in the upper mids and treble, and the extra power from the amps seem to help as well. Switching from my S10E to my Lotoo Paw S1 was a world of difference.
Tip rolling does have quite a significant role in the presentation of the sound. The wider bore tips cut back on the bass, albeit at the expense of the upper mids. Tips like the Final E tips would be good for people who prefer a slightly more forward and present bass response.
Comparison
VS Moondrop Aria
Full review of the Moondrop Aria
The Aria is positioned at an unbelievably low MRSP for the amount of quality it offers, both the build and sound. It's an all-rounder with a safe yet capable tuning to get anyone up and running into the Audiophile hobby. The Yuan Li has a more aggressive V compared to the Aria and comparing the two, Aria may come across as more the more "boring" of the two but I very much prefer the tonal balance and timbre on the Aria. The Yuan Li fits better than the Aria though.
VS Etymotic ER2XR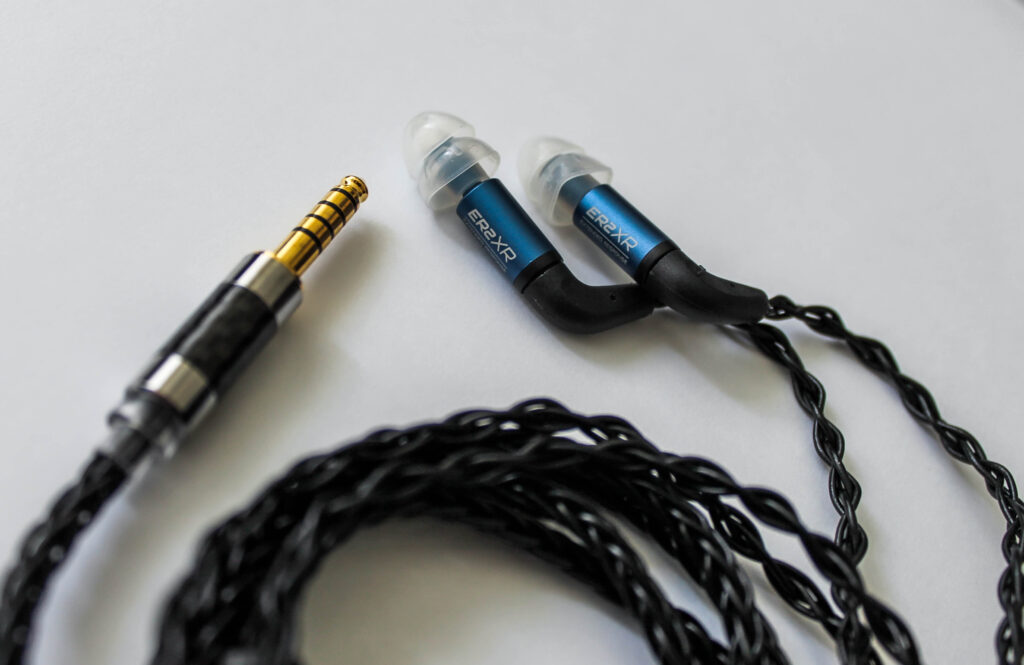 Full Review of the Etymotic ER2XR
The Etymotics have a more balanced sound with a better overall timbre. The only things I would give the Yuan Li the edge are its cable construction and perhaps its more forgiving fit. Otherwise, I very much prefer whatever the ER2XR does sonically. The ER2XR is also no slouch in detail retrieval so they both perform very well at their price points in that respect.
Conclusion
[Chinerino's Take]:
The Yuan Li is filled with warmth with decent spacing/staging. It belongs to the group of IEMs that gives you that meaty lower end with not-so-aggressive highs that won't induce much fatigue but just enough to keep that upper-end clarity and energy there. Soundstage is somewhat decent, however, I would like to see more attention to separation and technicalities for my own preference. For my readers, I do find that in value, 119 USD seems really good as the entire package (build/fit/packaging/accessories/materials) is just very well thought out. Sound-wise, go for it if you are looking for a quality warm laid-back option in your arsenal or if you are looking for something safe and versatile.
[Perry's Take]:
The Yuan Li delivers an all-round experience in both build quality and sonic performance. The single dynamic driver market in this price region is already saturated so competition was going to be stiff from the get-go. The Yuan Li, unsurprisingly, is no game-changer by any means. Moreover, I would go out on a limb to say it's not my favourite tuning. However, it does a good job, and as a debut IEM, TForce certainly could have done much worse, so kudos to them.
Companies like Moondrop have got to where they are through constant improvement from past releases (Kanas and Kanas Pro were great but not perfect on release), and if it only gets better from here, I am willing to place my bets on TForce to be the next big… force.
I would be looking forward to the next two IEMs in this trilogy that TForce has teased, hopefully with a variety of target frequency responses to cater to a greater crowd.
Click HERE for our grading list for earphones