Pros: Superb Value, Sturdy and Gorgeous Construction, Great Accessories, Good Technical Performance
Cons: Balanced tuning may not suit everyone, Microphonic Cable
Driver Setup: 11mm Dynamic Driver
Price: US$79.99
Intro
Disclaimer: This IEM was purchased with my own money and this review is written of my own accord and all thoughts here are my own. The Titan S is available for purchase here should you find yourself interested in a pair, or feel free to use your own links.
DUNU has been around the audio industry for a long time but this is the first time I've owned a DUNU IEM, and also the first time I'm reviewing one. Nevertheless, the Titan S was something I was excited to try and purchased for myself.
Accessories (Score: 9/10)
For a sub-$100 IEM, Dunu has certainly outdone itself in this aspect. It comes with a PU leather case in a striking blue and gold colourway. The construction quality was surprising and the design is sublime. It is not very wide so you wouldn't be able to fit your audio player in there but you certainly have room for a small dongle.
Dunu has also been extremely generous with the silicone tips. There is a total of 3 different sets of tips in S/M/L sizes, making it a total of 9 pairs. The difference is in the stem diameter, which I suppose would have noticeable changes in the sound profile. I use a wide-bored silicone tip to give a more balanced sound.
Build Quality and Fit (Score: 8/10)
Touching first on the stock cable, Dunu once again delivers with its cable. Simple and elegant in design, yet is one that is well-made and functional. It's a 4-wire twisted cable that's quite soft and coils up obediently. The brown colour matches well with the "industrial/cyberpunk" aesthetic of the earphones as well.
The earbud shells themselves are crafted using zinc alloy, with a purported dual-chamber, anti-resonance design. This is somewhat similar to the design adopted in the recently reviewed BQEYZ Autumn. The result is a really well-built earphone, that feels hefty and sturdy to the touch but not too uncomfortable in the ear. I was initially hesitant about the shape of the earbuds but they didn't have any significant pressure points as the insides of the shell were rounded off at the right places. My biggest complaint would be the noticeable microphonics from the cable.
Sound (Score: 8.2/10)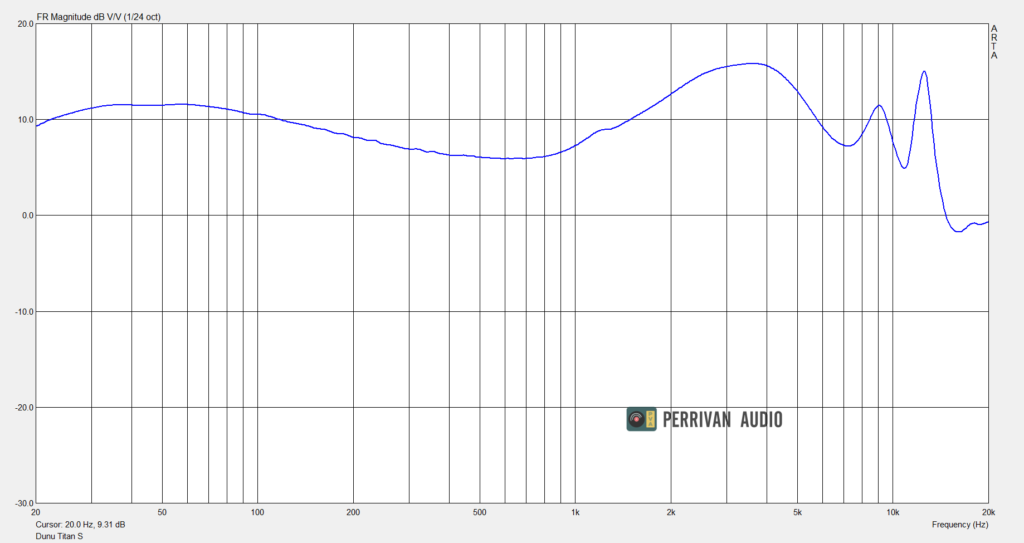 Frequency Response Graph of the Dunu Titan S
Sources
SMSL M200 + Schiit Magnius
Hiby R5
Apple Dongle
Music listened to
BORNS – Blue Madonna
Gryffin

Fun.

Kanye West – My Beautiful Dark Twisted Fantasy
Mumford & Sons
NEEDTOBREATHE
The Lumineers
Scary Pockets
Of Monsters and Men
Bass
The bass leans towards a more natural-sounding one. I would say it is firm and crisp, and sufficiently supports the music, though some bass lovers might find it a little lacking. That said, achieving a good seal, and choosing tips with a narrower bore can help to bring out the bass response a little bit more.
I enjoyed the Titan S with a wide bore tip that I got from BGVP (The W01 specifically).
Mids
The Titan S earphones shies away from the more common warmer midrange tuning which seems to have flooded the budget single dynamic earphone market recently. This is a breath of fresh air and is also part of the Titan S' appeal. That said, there is no harshness or unnaturalness in the midrange tonality. Vocals are very cleanly delivered, without any warping or colouration. Listening to Scary Pockets was enjoyable with good instrumental separation and decent imaging. Overall, the tuning here is up to personal preference and possibly your music library.
Treble
In the treble department, the extension is not superb, but nevertheless impressive for its price bracket. What the Titan S excels in is the timbre. It has enough upper-end extension to give it a rather spatial sound, so instruments like cymbals and drumsets do not sound too dead or compressed. Despite putting out a more detailed treble response, it also does well to avoid sibilant peaks and never comes across as harsh. It really does surprise you for a sub-$100 IEM.
Overall
The Titan S has an enjoyable tonal balance, that plays true to the music. Its detail retrieval is also rather impressive at its price point. All of these result in a really pleasant listening experience.
Comparisons
TinHiFi T3 Plus
The Dunu Titan S is in a tough spot as it is entering an already competitive segment, with great performers in the field, such as the Moondrop Aria and TinHiFi T3 Plus. The T3 Plus was more recently reviewed and hence I shall only compare it with the T3 Plus. The fit on the T3 Plus was better for me than the Titan S as I usually prefer resin-built IEMs. However, beyond that, I prefer the Titan S in every aspect. Keep in mind this is my opinion as the T3 Plus has a rather different tuning approach. It is a much more authoritative bass response, which is something that can be missing from the Titan S at times. However, with a single dynamic driver design, this results in a greater bass bleed into the mids and poorer technicalities on the T3 Plus as compared to the Titan S.
Conclusion
I have made the Dunu Titan S my daily on-the-go driver for a few weeks before writing this review. It has been really easy to drive and hence rather versatile with dongles and DAPs tested alongside with. The Titan S adopts a rather safe tuning and offers the option to tweak the sound signature with silicon tips. This makes it quite versatile across genres.
TLDR, the Titan S has been a pleasure to listen to and will remain my daily driver for now and it certainly shouldn't be slept upon. There is news of an update and I will be keeping an eye out for that.
Click HERE for our grading list for earphones