Pros: Decently tuned, Cheap & Value for Money, Functional
Cons: Grainy sound, Not the Prettiest, One-dimensional, possibly boring Sound
Driver Setup: Composite Polymer Diaphragm Dynamic Driver
Price: US$14
Intro
Disclaimer: This review set was graciously lent to me by a friend and the review is written of my own accord. Should you find yourself interested in a pair, you can find them online here.
CCA wants a piece of the ultra-budget IEM pie. Their CRA IEM features a single IEM dynamic driver and costs a mere 10-15 USD (depending on your location). Although expectations are low for IEMs in this bracket, there are quite a number of competitors, so let's take a look to see if the CRA has enough going for it.
Accessories (Score: 6/10)
Accessories are the bare minimum, which is pretty much the norm at this price point. Silicone Tips, and a sturdy detachable 2-pin cable, pretty much cover everything you need right out of the box.
Build Quality and Fit (Score: 6/10)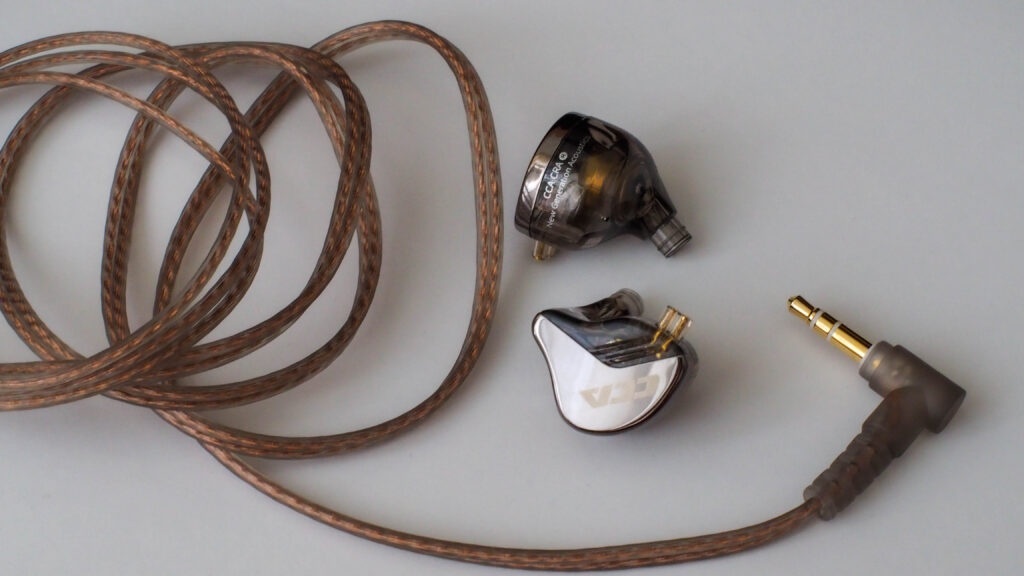 The build quality is average, with the same mould as the KZ/TRN IEMs that we've seen in this price range. They are likely using the same mould as well, with a rather generic fit that should fit most average-sized ears, though not the most comfortable. If you have trouble with the stock tip, swapping out to third party silicone tips or foams should help you get a decent seal.
The cable is quite durable, though a little stiff and difficult to coil. There is an option for an in-line microphone should you require one. Overall, the IEM is a functional one, albeit an ugly one.
Sound (Score: 6.0/10)
Frequency Response Graph of the CCA CRA
Sources
SMSL M200/Schiit Magnius
Hiby R5
iPhone Dongle
Music listened to
Scary Pockets
Sam Feldt
Taylor Swift
BORNS
Vampire Weekend
Greenday
Bass
Bass has quite a significant amount of warmth but is surprisingly relatively controlled. The basslines are forward, yet tight enough to be enjoyable and not ruin the midrange. Of course, there are limitations to the speed, detail, and lower-end extension of the bass. I would have appreciated a better punch to the bass. Nevertheless, a decent job at covering the basics without sounding whack.
Mids
Vocals have quite a lot of room to shine in the mids. Melodic lines are presented distinctly from the bass, with minimal bass bleed, tonality is decent and the CRA does well for the genres I've tested it with.
My only complaint is that there are noticeable limitations in the detail retrieval, and the CRA struggles to deal with more complicated instrumentation and the subtle nuances of instrumental timbres. This pretty much rules the CRA out for critical listening, which honestly shouldn't come as a surprise at this price point.
Treble
The treble is played safe, with a good decent amount of presence in the lower treble. Cymbals have just enough detail and information to sound whole and complete, without coming across as metallic or splashy. This plays well into many genres of music, making the CRA rather versatile. There isn't much extension into the upper regions. This limits the staging of the IEM and makes for a slightly boring and unimpressive sound.
Overall
Expect an intimate one-dimensional sound. There is very little soundstage and separation in the sound. What you're getting is a rather well-tuned, coherent budget IEM. The timbre is very natural with no metallic timbre. Overall sound signature is a bass-boosted warm one, which should work well with most mainstream pop music, and is versatile across various genres.
Conclusion
I've sung a few praises for the CCA CRA. However, do take note I am doing so while fully noting the expectations of a $10-$20 IEM. At no one point did the CCA CRA impress me enough that I considered keeping it as part of my personal collection. The CRA is a pleasantly tuned warm tuning that is versatile across genres and inoffensive and safe in the upper mids and treble without compromising on the tonality.
Who is the CCA CRA for? I would recommend it to people who aren't particular about their earphones and just want a no-frills beater pair, and I reckon they would be pleasantly surprised with the sound quality they are getting for the price. The CRA would also work well in the office environment, especially when paired with a cable with the inline microphone to answer calls.
Click HERE for our grading list for earphones